The M.Simillides & Sons ltd  has the solution.
Let us Serve Your Locksmithing Needs.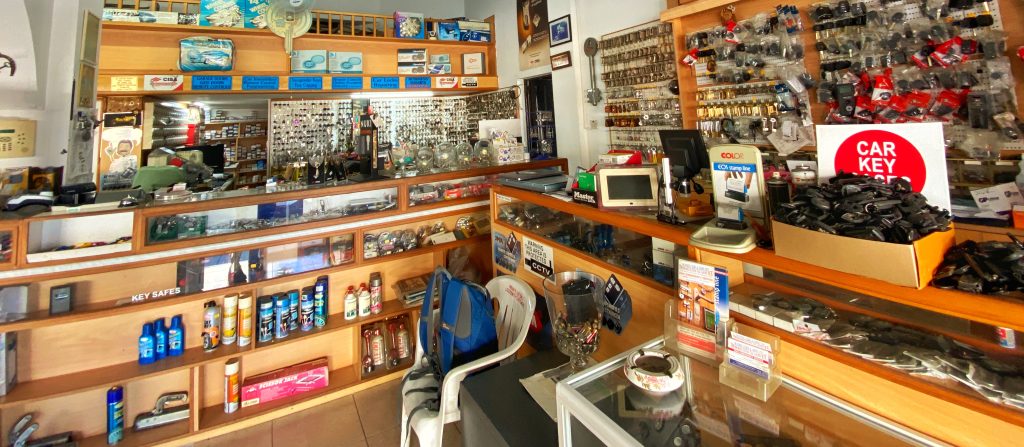 1 - ALL MAKES OF CARS - HOUSES AND SAFES OPENING
NOW WITH OUR NEW EQUIPMENT WE CAN PROVIDE YOU WITH WIDER RANGE OF IMMOBILIZER  KEYS AND REMOTE CONTROLS (CAR & MOTORBIKES).   ( IF YOU LOST THE KEYS OR IF YOU WANT EXTRA COPY ).
      * LOST YOUR CAR KEYS  OR YOUR BIKE KEYS ???  DON'T WORRY !!!.
JUST CALL ON 99647645 ASK FOR GEORGE AND HE HAS THE ANSWER FOR YOU
     * ( IF YOU DEALING PROBLEMS WITH YOUR CAR KEYS , NO START THE ENGINE OR LOST YOUR KEYS , JUST EMAIL AS AND WE WILL TELL YOU WHAT WE NEED YOU TO SEND AS TO HELP YOU) 
     * SMART KEYS FOR  NISSAN / SUZUKI / MAZDA / FORD  ETC
     * MERCEDES 3 BUTTONS REMOTE AVAILABLE
2 - KEY CUTTING IN ONE MINUTE
HOUSE KEYS (ANY TYPE)
      * SIMPLE KEYS – COLORED  KEYS
      * CAR KEYS (ANY TYPE)
      * KEY SHELLS FOR YOUR KEY FOBS
        (MERCEDES 3 BUTTONS SMART KEYS, BMW 3 BUTTONS DIAMOND KEYS, FORD 3 BUTTONS, ALL TOYOTA 1-2 AND 3 BUTTONS ,PEUGEOT 2 BUTTONS, AND MANY MORE)
3 - INSTALLATIONS & MAINTENANCE OF:
HIGH SECURITY LOCKS
* EXTRA HIGH SECURITY LOCKS FITTED (2ND LOCK)
* DOOR SECURITY CHAINS
* DOOR SPYING EYES
* DOOR CLOSERS
* BOLD LOCKS
* SAFES
* PATIO LOCKS
* CAR LOCKS ALL TYPES (REPAIR)
* MASTER KEYING


4 - IMMOBILIZER PROGRAMMING:
ALL TYPES OF TRANSPONDER KEYS DUPLICATE OR LOST KEYS.
* BIG RANGE OF CAR REMOTE CONTROLS AVAILABLE (BY ORDER)
5 - REMOTE CONTROL PROGRAMMING:
CAR REMOTE CONTROLS (BY ORDER)
* GARAGE & GATE DOORS REMOTE CONTROLS
* BATTERIES FOR REMOTE CONTROL
* REPAIR YOUR OLD REMOTE CONTROL BUTTONS WITH NEW 
6 - BUSINESS STAMPS WITH YOUR COMPANY LOGO:
ANY SIZE AVAILABLE
* COLOUR REFILLS
* BLACK – RED – BLUE – GREEN – VIOLET
ANY SIZE AVAILABLE ( PLASTIC OR METAL)
( HOUSE FOR SALE / RENT / PRIVATE PARKING ETC.)
CAR NUMBER PLATES
For any questions you may have, please feel free to contact us.